February 11th, 2009
Today, it's the Twestival, a day of local Twitter meetups for fun and good! Twestival participants donate to Charity: Water, a non profit organization bringing clean, safe drinking water to people in developing nations by funding sustainable clean water solutions in areas of greatest need.
We're showing our support by donating of course, and by switching Twistori over to a special version for the occasion: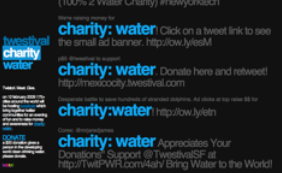 A $20 donation can give a person in the developing world clean and safe drinking water for 20 years. Show your support!
Tweet