May 7th, 2007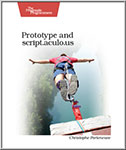 Now in PDF as a Beta Book from Pragmatic Programmers with a dead tree version coming later this year: Prototype and script.aculo.us by Prototype core team member, script.aculo.us contributor and Google Group help wizard Christophe Porteneuve.
Christophe shows you all the little helpers and niceties of Prototype, and explains how they're supposed to be used. Whether it's Element manipulation, DOM traversal, Ajax or the JavaScript extensions like Enumerables, Christophe's book will give authorative, complete and oftentimes fun answers, paired with some great insights on why things are done as they are in Prototype.
Basically, with this book in your arsenal, you'll quickly make the transition from just using Prototype to being the resident code ninja.
Needless to say, the book is completely up-to-date (and also covers features from the yet-to-be-released version 1.5.2 of Prototype!), to help you stay on top of things.
Of course, not only does Christophe show you how to really leverage Prototype, but there's a second beta on the way, providing the same coverage for script.aculo.us, which I really look forward too!
Tweet