March 27th, 2007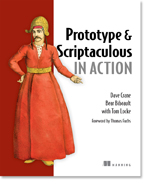 Weighting in at 544 pages on sweet, sweet Prototype and script.aculo.us, Dave Crane and Bear Bibeault's new book Prototype and Scriptaculous in Action just hit the shelves. And it's packed with stuff for beginners and pro's alike.
As it happens, I wrote the foreword for the book, which you can read online. 😉
Next to a crash-course on getting started with the fun, you'll get a comprehensive introduction to the concepts around the libraries, plus it features great references tables for all the various options available here and there. It also has sample code to show how to use various server-side development environments, to help get you on track wheter you're using Rails, Java or PHP.
What's more, there are more books coming soonish, so stay tuned!
Tweet